nicely understated Olympic ceremony
tap-dancing militant Islamic fundamentalists
Obamacare is a well run compassionate health care program

The Taxi News for Saturday October 25, 2014






Murdered Tuschen taxi driver was stabbed six times – post-mortem

Stabroek News - (Georgetown, Guyana)

October 21, 2014 · By Staff Writer

Results of the post-mortem examination performed on the remains of Abdool Hassim of Tuschen Housing Scheme, East Bank Essequibo proved that he died as a result of six stab wounds to neck.

Hassim, a taxi driver was attacked on a lonely street around 11 pm on Friday while reportedly transporting two males who hired him from the car park at the head of the scheme. - more....


---
No bail for chopping taxi driver

Trinidad Express - (Port of Spain, Trinidad)

By Nikita Braxton-Benjamin
Story Created: Oct 19, 2014 at 10:25 PM ECT

A PAINTER who allegedly chopped taxi driver Georgie Shah and damaged his car was denied bail by the court on Thursday.

Shah was said to be in serious but stable condition in hospital, having sustained chop wounds to his hand and foot.

Magistrate Siumongal Ramsaran remanded Everton Durity into custody and asked that an update on Shah's medical condition be given to the court today.

Durity, 37, was charged with wounding Shah with intent to cause grievous bodily harm. It was also alleged that last Tuesday he maliciously damaged Shah's car in the sum of $6,170. - more....


---
St. Charles man gets 10 years in prison for robbing cabbie

St. Louis Post-Dispatch - (St. Louis, Missouri)

October 22, 2014 1:24 pm • By Susan Weich

ST. CHARLES COUNTY • An 18-year-old St. Charles man who held up a taxi driver at an apartment complex was sentenced Wednesday to 10 years in prison.

Lashawn Donnell Wooten, of the 2400 block of Golfway Street in St. Charles, pleaded guilty to first-degree robbery. Prosecutors agreed to drop another charge of attempted robbery in exchange for the guilty plea.

Circuit Judge Nancy Schneider handed down the sentence; Wooten must serve 85 percent of it.

Wooten and two other St. Charles men — Torres Juwan Jacobs, 19, of the 1000 block of Trails of Sunbrook, and Christian Brandan Mosley, 19, of the 3400 block of East Lime Kiln — were arrested last November after they tried to rob a second cabbie who turned out to be an undercover police officer. - more....


---
Taxi Drivers Demand Signs Reminding Passengers Not to Try to Kill Them

The Village Voice - (New York City, New York)

By Katie Toth Wed., Oct. 22 2014 at 7:02 AM

These guys are tired of your crap.

New York taxi drivers are mad as hell, and they're not going to take it anymore.

According to the U.S. Bureau of Labor Statistics, cab drivers and chauffeurs accounted for 53 of the 4,405 Americans killed on the job in 2013. Their workplace fatality rate is 130 percent higher than the national average. And in New York, eight cabbies were assaulted in 2014, according to data from the New York Taxi Workers Alliance.

That's why drivers rallied in front of City Hall on Tuesday afternoon, urging the City Council to pass a bill that would require that signs be posted in all city-licensed taxis to remind passengers that assaulting a cab driver could land them in jail. For a long time. The signs, as suggested by the council bill, would read:

ASSAULTING A TAXI OR LIVERY DRIVER IS PUNISHABLE BY UP TO 25 YEARS IN PRISON.

Mamnun Ul Haq, a co-founder of the New York Taxi Workers Alliance, which has lobbied the council to push for the signs, was joined at the rally by other drivers and councilmembers who supported the bill. He says the idea to propose the signs came to him in a hospital bed as he recovered from being stabbed on the job: "I can't even tell you how painful it was," he tells the Voice. - more....


---
City Council passes bill to require signs in taxis warning against assaulting drivers

New York Daily News - (New York City, New York)

BY Erin Durkin
NEW YORK DAILY NEWS
Wednesday, October 22, 2014, 3:59 PM

Taxis will soon display signs warning of penalties of assaulting the driver. TIMOTHY A. CLARY/AFP/Getty Images Taxis will soon display signs warning of penalties of assaulting the driver.

Every taxi and livery car will have to display a sign warning passengers that beating up their driver carries hard time, under a bill passed by the City Council Wednesday.

The legislation requires yellow and green taxis and livery cars to install signs that read, "Assaulting a taxi or livery driver is punishable up to 25 years in prison."

Taxi drivers say they work under constant threat of violence, and are 20 times more likely to be killed on the job than the average worker.

So far this year, there have been 40 assaults against drivers. - more....


---
Taxi owners to fight 'Taxi of Tomorrow' in Court of Appeals

New York Post - (New York City, New York)

By Julia Marsh
October 23, 2014 | 1:02pm

Taxi fleet owners' fight to defeat former Mayor Michael Bloomberg's "Taxi of Tomorrow" plan kicked into high gear Thursday when they got the green light to bring their case to the state's highest court.

The plan has been stop and go since 2013, when a lower court judge blocked the rollout of Bloomberg's favored Nissan NV200, saying the then-mayor exceeded his authority by anointing one type of vehicle for the city's entire yellow fleet.

But a year later, a mid-level appeals court said the Nissans could hit the road because the TLC, acting under Bloomberg, was responsible for producing a "21st century" cab.

The plan was a hallmark of Bloomberg's tenure that has since been adopted by Mayor Bill de Blasio. - more....


---
It Takes This Guy An Hour To Get A Taxi In NYC. And That's One of His Better Options.

Independent Journal Review - (Internet)

By Charles Samuel

It's not this man's legs that are holding him back. Not when New York City's commuter options for citizens with wheelchairs haven't been updated to consider the times and their needs.

In a short video, the Vocativ film crew follows NYC music producer Scott Hard as he attempts to hail a taxi in the city. There's just one problem: Hard is paralyzed from the waist down and confined to a wheelchair, and NYC just isn't optimized for wheelchair travelers.

As he hails for a taxi with his arm stretched out, Hard explains that the vehicles that can give him a lift look very specific:

They have to be either a minivan or these kinda boxy ones, and they… have a blue icon of a wheelchair with a guy doing this.

Spoiler alert: those taxis don't come around too often. - more....


---
Illegal taxis remain at Pearson airport despite crackdown

CBC News - (Toronto, Ontario)

CBC News Posted: Oct 16, 2014 6:53 PM ET

A fleet of illegal taxis targeting unsuspecting travellers have set up shop at Pearson International Airport, CBC News has learned.

Taxi drivers will approach travellers in the arrivals pick-up and drop-off area of the airport, offering rides. They will sometimes walk into the terminal to solicit rides before passengers even make it outside.

The problem is these taxis are unlicensed and often charge exorbitant fees — some reports have rides from the airport costing as much as $70 in cash.

Both the police and airport are aware of the problem. Pearson has brought in a private security firm to get a handle on the situation. But the illicit taxis, known as "scoopers," remain.

"He looked nice … clean. He looked decent," said MaryAnn Nagy, who was set to ride in a scooper until a security guard pointed her to the right direction.

"It's happening in every airport I travel through," she said, "but I'm surprised they are this good at it here."

New York resident Fausto Publisi wasn't fooled.

"I'm not surprised. I guess it's just people trying to make a living, trying to cut corners," he said.

Cab drivers want enforcement - more....


---
No bidders for $475K taxi medallions

The Inquirer - (Philadelphia, Pennsylvania)

By Paul Nussbaum, Inquirer Staff Writer
Posted: October 23, 2014

With Philadelphia taxi service facing an uncertain future, no one was willing to bid Wednesday on new taxi medallions offered for sale by the Philadelphia Parking Authority.

The PPA had set a minimum bid of $475,000 for each of the two medallions, based on recent private transactions of more than $500,000.

The new medallions are the first of 46 being offered for sale this year by the PPA, and all must be used on new wheelchair-accessible vehicles, in an effort to increase the availability of taxis to wheelchair users.

Wednesday's auction, the first ever by the PPA, came amid statewide debate over the efforts of "ride-share" companies like Uber and Lyft to enter the Pennsylvania market.

The San Francisco-based ride-share companies connect people looking for a ride with private car owners looking for extra money. Their phone apps allow riders to summon a car, pay for the service, and get a receipt, all electronically.

In Philadelphia, the PPA regulates taxis, and owners must have a medallion to operate. In the rest of the state, where medallions are not involved, the Pennsylvania Public Utility Commission regulates the industry.

Dennis Weldon, general counsel for the PPA, said the prospect of competition from Uber and Lyft might have made bidders reluctant to meet the asking price, for fear the medallions' value would fall.

Medallions have skyrocketed in value in recent years, going for as much as $545,000 earlier this year, up from $65,000 in 2005. - more....


---
Uber Driver Not at Risk of Catching Ebola, Officials Say

New York Observer - (New York City, New York)

By Polly Mosendz | 10/24/14 1:09am

Craig Spencer was diagnosed with Ebola on Thursday and is currently quarantined at the Bellevue Hospital in Manhattan. His is the first case diagnosed in New York and the fourth in the United States.

Dr. Spencer, who worked with Doctors Without Borders, recently traveled to Guinea to offer his medical services to those affected by the outbreak, returning late last week.

During his time in public, Dr. Spencer traveled on the A, L and 1 trains. He also took an Uber taxi, sparking concern about the safety of the Uber driver and the cleanliness of the vehicle. - more....


---
UberX Drivers Rally For Fair Pay Outside Uber Headquarters

The San Francisco Appeal - (San Francisco, California)

by Bay City News | October 22, 2014 6:53 pm

Dozens of Uber drivers held a rally in front of the company's headquarters in San Francisco this afternoon to protest what they say are unfair wages resulting from Uber policies that set impossibly low fares in an effort to out-price their competitors.

The drivers gathered on Market Street this afternoon holding signs that read "Uber Drivers Unite" chanting "Uber, Uber you can't hide, we can see your greedy side."

Drivers in other major cities such as Santa Monica and London, who disagree with Uber's driver policies as well, joined today's protesters.

Many of the drivers who showed up today were greeted by passing Uber drivers who slowed down and honked as they passed the Uber headquarters at 1455 Market St.

The rally comes just two days after San Francisco International Airport announced a pilot permit allowing Lyft and UberX drivers with transportation network companies to legally pick up and drop off riders at the airport, according to SFO spokesman Doug Yakel.

The transportation network company Sidecar previously signed a permit with SFO last week, according to Yakel.

SFO director John L. Martin said in a statement that the new permits will provide "customers at SFO more choice, without compromising our focus on safety and security."

But many UberX drivers and taxi drivers alike say the company is taking advantage of drivers and jeopardizing public safety.

UberX driver and longtime San Francisco resident Jean Remy said he began driving for Uber just over a year ago. He had quit his other jobs because he was making a nice salary driving for the company.

Remy said in the good old days he was making about $300 a day for a seven hour shift, before taxes and expenses, such as gas, maintenance and insurance.

Now, for that same seven-hour shift, Remy said he'd make about $175, which comes to about $25 per hour before taxes and expenses.

Remy said the decline in his salary came after Uber decided to cut the price of fares to outbid competitors such as Lyft and Sidecar.

He said he has returned to his former job of delivering pizzas and only works for UberX during really popular hours, when surge pricing is in effect.

Drivers with Uber are not considered employees, instead they are considered independent contractors, which allows them to make their own hours, but Remy said it also means they receive little to no respect from the company.

"We don't have a voice," Remy said. - more....


---
Uber drivers in New York strike to protest lower pay

New York Post - (New York City, New York)

By Kaja Whitehouse
October 22, 2014 | 3:19pm

Uber drivers left New Yorkers out in the cold Wednesday — ­refusing to work on one of the rainiest days of the season.

As many as 2,000 angry drivers staged a strike, shutting off their phones and putting the brakes on pick-ups to protest "low pay" and "unfair policies," they said.

"Uber has become like Walmart. Drivers now make less than the minimum wage when we do the math," said Abdoul Diallo of the newly formed Uber Drivers Network, which opposes new lower fare rates set by the company.

The high-tech livery-service firm recently slashed passenger fares to compete with car services such as Lyft, Gett and regular yellow cabs, a move that drivers say takes money out of their pockets.

Some Uber drivers claimed fares — and their paychecks — had been chopped 25 percent in recent months.

Other drivers said they make less than a living wage, just $7 to $12 an hour after expenses and fees — far less than the $25.79 an hour Uber promises drivers can make by joining its fleet, protesters said. - more....


---
Why Uber Drivers Say They Just Can't Quit Working For The Company

Business Insider - (New York City, New York)

Maya Kosoff
Oct. 22, 2014, 3:17 PM

Unhappy with the company's policies, Uber drivers across several cities are protesting Wednesday.

In some areas, Uber drivers are protesting outside the company's offices. In other cities, like New York, they're shutting off their phones provided to them by Uber and refusing to pick up customers.

But why bother protesting at all? Why not just quit and work for another company like Lyft or Gett?

"There are a number of reasons," Joseph De Wolf Sandoval, the president of the recently formed nonprofit group California App-Based Drivers Association (CADA), tells Business Insider. CADA helped coordinate Wednesday's protests, along with cooperation from Teamsters Local 986 (a Southern California-based union), and groups like Uber Drivers Network NYC, which have recently appeared on social media to represent unhappy Uber drivers.

Drivers are too invested to quit.

"I get that a lot — why don't you do something else? Why don't you just quit?" De Wolf Sandoval says.

"One reason is that a lot of people have invested a lot of money into their fleet, or into their cars to work on the Uber system, with the implied promise from Uber that they were going to be doing very well — they'd be running their own small business and they'd be able to recoup the investments, whether that's an investment in a Chevy Suburban at $40,000, or maybe two — or 10, if you own a fleet,"

De Wolf Sandoval says many drivers are totally invested in Uber at this point: They have financed vehicles and changed their fleet to run in accordance with Uber's standards for cars, and they can't simply walk away now. " - more....


---
Taxi shortage as Uber lures away yellow cabbies

New York Post - (New York City, New York)

By Michael Gartland
October 19, 2014 | 11:48pm

Hailing a cab is now even more of a hassle — and Uber may be to blame.

More than 10 percent of the 50,000 hacks who pilot 13,000 or so yellow cabs around the city have defected to the app-based livery service in the past four months. This not only means fewer taxis cruising the streets, it also caused medallion prices to plunge by an average $150,000, industry insiders told The Post.

Fleet owners are blaming the Taxi and Limousine Commission for the mass migration, accusing it — or one of its employees — of supplying drivers' contact information to Uber. "They're leaking it," said Tony Georgiton, of Queens Medallion, which leases its cars to some 2,000 drivers. "It has to be somebody within the agency, within the TLC."

He insists the data can't have come from his company because it closely guards its records.

TLC spokesman Allan Fromberg described the charges of leaked contact information as baseless. He said the agency could not confirm whether there are fewer yellow-cab drivers.

Georgiton's allegations come just days after The Post first reported on Wednesday that the Department of Investigation has opened a conflict-of-interest probe into Ashwini Chhabra, who left his $160,000-a-year job at the TLC for a cushy position at Uber. - more....


---
Uber, Lyft Get Permits to Operate at SFO

The San Francisco Appeal - (San Francisco, California)

Bay City News | October 20, 2014 4:35 pm

UberX and Lyft will be allowed to operate at San Francisco International Airport in the next 30 days, SFO officials announced today.

"We are committed to be an industry leader, creating a roadmap for innovative business models like Lyft and UberX to operate legally in an airport," airport director John Martin said in a statement today. "We're proud to be the first airport in the U.S. to have both signed permits from both companies. This gives customers at SFO more choice, without compromising our focus on safety and security."

Lyft was the first company to obtain a permit to operate at a U.S. airport, in Nashville, while Sidecar became the first to get a permit at a California airport when it reached an agreement with SFO last week.

The transportation network companies, in which travelers are connected through a smartphone app with part-time drivers using personal vehicles, were prohibited from picking up or dropping off passengers at airports when the California Public Utilities Commission set new regulations on the companies last year.

Reports are that his attackers took away his cash and cell phone after stabbing him to the neck and hitting him to the back of his head. - more....


---
Council supportive of increasing taxi rates

Post-Bulletin - (Rocherster, Minnesota)

Posted: Tuesday, October 21, 2014 8:20 am
Rachel Leingang

The Rochester City Council generally showed support for increasing taxicab rates after testimony Monday from cab drivers, who said they need to pay their bills. - more....


---
Arizona company launches rideshare app, looks to rival Uber, Lyft

KTAR 620-AM - (Phoenix, Arizona)

By Mark Remillard, | October 21, 2014 @ 6:30 am

PHOENIX -- Glendale-based Total Transit, which owns Discount Cab, has launched a rideshare app of its own aimed to compete with the likes of Uber and Lyft.

Total Transit said its app was "Arizona's only legal rideshare service." Drivers and cars would be required to meet the same standards as traditional taxi companies. Total Transit President Mike Pinckard said services like Uber and Lyft circumvent state requirements after Gov. Jan Brewer denied exemptions for the pair.

Pinckard said the Total Transit app has the same functions of other rideshare companies, such as mobile ride hailing and payment, GPS driver tracking and fair quotes, but unlike other companies, Total Transit requires their drivers to pass background checks, complete vehicle inspections and obtain commercial insurance.

"It's an identical service that you would see with Uber X or Lyft, he said. "Ours is exactly the same with the exception of it's safe, it's legal and it's insured."

Total Transit has been working on the app for about a year as the demand for rideshare has continued to grow in Arizona.

Discount Cab is one of the largest taxi companies in the U.S. with more than 1,000 cabs. However, Pinckard said he doesn't see the new app as internal competition against Discount Cab, but a complimentary service. - more....


---
Cheaper gas means an end to $1 fee on Miami-Dade County taxi fares

Miami Herald - (Miami, Florida)

10/21/2014 5:48 PM

Rapidly falling gas prices have left taxi rides cheaper in Miami-Dade County.

The county's regulatory arm announced Tuesday it had eliminated a $1 surcharge on taxi fares that was tied to elevated gas prices. Gasoline prices in the Miami area recently hit $3.16 a gallon, down about 5 percent from last month's price of $3.24, according to AAA. A year ago, the price was $3.32. - more....


---
Clark County taxi rates going up 8 percent

Las Vegas Review-Journal - (Las Vegas, Nevada)

Posted October 20, 2014
By RICHARD N. VELOTTA
LAS VEGAS REVIEW-JOURNAL

Local taxi rates are going up.

The Nevada Taxicab Authority on Monday approved an increase of just more than 8 percent, boosting Clark County to the second highest rate in the nation among cities with a tourism-based economy.

Although rates are higher, taxi rides in Clark County generally cost less than in most cities because the airport is so close to Strip resorts and convention centers.

It's unclear when the new rates will take effect because the Taxicab Authority must get permission to use budget reserve funds to pay overtime to the vehicle inspectors and investigators to change the meters on the 3,000 cabs in the Las Vegas fleet. A meter changeover generally takes about five to six days, but it could take weeks to get the approvals necessary to budget funds for the associated costs.

The board unanimously authorized rates to climb from $3.30 for the initial drop to $3.45, 20 cents per one-thirteenth of a mile ($2.60 a mile) to 22 cents per one-thirteenth of a mile ($2.86 a mile) and wait-time charges of $30 an hour to $32.40 an hour. The $2 McCarran International Airport pickup fee will remain unchanged. The per-mile rates include a 20-cent-per-mile fuel surcharge.

It was the first taxi rate increase since November 2008 and comes at a time when the county's 16 taxi companies could face competition from the ride-sharing technology company Uber. - more....


---
Uber begins ride-sharing service in Vegas, Reno

Las Vegas Review-Journal - (Las Vegas, Nevada)

By RICHARD N. VELOTTA
LAS VEGAS REVIEW-JOURNAL
Posted October 24, 2014 - 5:00am

After months of strategizing, representatives of Uber say they will launch their controversial ride-sharing platform in Las Vegas and Reno this afternoon.

In the company's initial rollout, Uber drivers will not pick up customers in the city's resort corridor or at McCarran International Airport but will be able to drop off passengers at those locations.

Company officials say the service will be available across the Las Vegas Valley and in Reno and Carson City with rates that are 10 percent to 20 percent below taxi rates.

Regulators, meanwhile, say they will enforce the state's transportation statutes and regulations, which means they probably will cite drivers and impound their vehicles if they're caught transporting customers without a license.

"We're going to enforce the law," said Bruce Breslow, director of the state's Department of Business and Industry, which oversees the Nevada Transportation Authority and the Nevada Taxicab Authority. "We're not going to get into an argument over philosophies,"

Philosophical differences are what have driven the debate over Uber and other ride-sharing companies seeking to operate in the state.

To the Taxicab Authority's enforcement staff, Uber drivers are like any other illegal operator. The authority oversees Clark County's 16 taxi companies and monitors cab operations, mostly along the Strip and at the airport.

But to Uber management, the company is a technology platform that connects people who need rides to drivers who can provide them. They say they aren't a transportation company and the drivers who will operate in Southern Nevada are independent contractors who sign an agreement that enables them to use the company's app, which also provides electronic payments from the passenger to the driver.

"For far too long, Las Vegans have been underserved by incumbent industries, leaving behind the people that live and work in Vegas," said William Barnes, Uber's western regional manager. "Your safe, reliable and affordable ride has arrived Las Vegas — and we're here to stay." - more....


---
Op-ed: Don't hurt real cab companies in favor of 'app cabs'

The Salt Lake Tribune - (Salt Lake City, Utah)

By Ross C. "Rocky" Anderson
First Published Oct 17 2014 04:39PM

When I was mayor of Salt Lake City, most members of the City Council were sold on UTOPIA. It was "innovative." We would be "pioneers." It would be a "boon" to our "modern" city.

I blocked our city's participation in UTOPIA. I took a lot of heat, but I considered, with the help of independent experts, the applicable public-interest principles. My conclusion: UTOPIA violated those principles. Now, cities that adopted UTOPIA are facing horrendous costs to homeowners because the projections of UTOPIA were, well, utopian. Unrealistic. Highly speculative. Extremely risky.

We're now facing a similar prospect with "app cabs" like Uber and Lyft, which connect drivers with riders through a smartphone app. Cool. Innovative. Technologically hip.

But they've both been given "F" ratings by the Better Business Bureau. For good reason. Yellow Cab locally is rated "A+".

Authorization of app cabs, which would not be subject to the same regulations imposed on cab companies, would be disastrous for local businesses and their employees and a bad deal for many consumers. No wonder numerous nations, states, and U.S. cities (some very "cool" cities) have prohibited app cabs. - more....

Ross C. "Rocky" Anderson is former mayor of Salt Lake City and currently legal counsel for Yellow Cab Co.


---
Uber taxi banned on campus

The Quinnipiac Chronicle - (Hamden, Connecticut)

By Sal Siciliano on October 22, 2014

Uber is a private taxi service that has recently gained momentum at Quinnipiac as a new means for student transportation – one that Public Safety is not allowing students to use.

Despite a website that advertises convenience and over five million downloads on Amazon and Apple's app-stores, according to their two websites, Public Safety has advised the company not to pick up students on campus due to safety precautions.

Chief of Public Safety David Barger believes the fact that the company's national independence from taxi companies regulated by Connecticut state taxi laws is enough to raise concern.

"What it comes down to it, under Connecticut state law,… [state taxi drivers] basically need a taxi license, an endorsement and a background check," Barger said.

The state taxicabs themselves, like the drivers, also have to pass a background check to be able to serve the public.

"Heat, air conditioning, all that type of thing, ensures a [state] taxi license, plus you have to have a meter in the taxi," Barger said. "Uber right now, to the best of my knowledge, doesn't [require] any of that." - more....


---
Ten Ways To Become A Five Star Customer

Minneapolis Star-Tribune - (Minneapolis, Minnesota)

Posted by: Chey Cab under Society, Transportation Updated: October 22, 2014 - 12:41 AM

For anyone who has taken an Uber, there is a point after the ride where Uber prompts you to rate your driver from one to five stars. This is genius because it holds drivers accountable to a higher level of service. What you may not know, is that when your ride is complete the driver is also promted to rate you from one to five stars. Now the accountability goes both ways. Of course you won't lose your job if your driver gives you a low rating, but it may impact your ability to hail a car on the service.

Left your iPhone in a cab, limo, or rideshare? If you are a five star passenger, chances are you have nothing to fear. Your driver could've been on his or her way home after a sixteen-hour shift, but since you were such a great passenger, s/he will double back to hunt you down to return that phone you can't live without. Do you want—or even expect—this level of service? Here are some tips on how to become a five star passenger next time you hop a cab, limo, Uber, or rideshare in ten easy (common sense) tips.

Know your name, location, and destination

This may seem self-explanatory, but many people don't always know where (or who) they are. If you are shocked by this (or even mildly amused), so is every professional driver in the world. The bottom line is, much like your significant other, cabbies cannot read your mind. Make sure you have a firm understanding of your location on the surface of the Earth, your desired destination, and a firm grasp on a name you will answer to before you order up the service. If this is a challenge for you, I do suggest having a regular driver on speed dial or, perhaps, a lanyard around your neck that says, if lost please return to this address. That gps pin on the app isn't always accurate, so be sure to double check it before you order your ride.

Don't lie about the number of passengers - more....


---
Why New Yorkers Can't Find a Taxi When It Rains

City Lab - (Internet)

Cabbies might quickly make enough to call it a day. Or they might not think it's worth it to be out at all.

Eric Jaffe
Oct 20, 2014

You have to live in New York City for precisely one rainy day to appreciate that it's extremely difficult to find a taxi in New York City when it rains. It's also extremely difficult to figure out why that's the case. Sure, there might be more people looking for a cab when it rains, but New York is a place that ceaselessly aims to satisfy all desires, reasonable and twisted alike. So if there are more people out there looking for a cab, you'd expect there to be more cabs out there looking for people.

You are not alone in your confusion. Scholars who study economic behavior for a living have trouble understanding what's going on here themselves. Inspired by a new study of the subject, we'll look at two leading theories.

The first concept, courtesy of Cal Tech behavioral economist Colin Camerer, is known as "income targeting." It's pretty straightforward: Cab drivers strive for a certain amount of income each day, and once they hit that target, they call it quits. That means on good days, a cabbie can knock off earlier. Camerer explains in a 1997 article in Engineering and Science: - more....


---
D.C.'s very first taxis faced the same problems. Even before Uber.

The Washington Post - (Washington D.C.)

By Julie Zauzmer October 21

Once, the article says, it was easy to make a good living as a taxi driver in Washington, a city full of "well-to-do strangers" (cough, tourists) eager to pay for a ride around town.

Then came the increased competition, in the form of upstart innovators copying the business model of the longtime drivers. And the city made regulatory decisions despite the taxi drivers' opposition.

The gripes sound familiar today, as D.C.'s traditional cabs battle Uber and Lyft for business on the streets.

But the article in The Washington Post was written in 1890. - more....


---
Oxford threatens to arrest drivers for Internet-based Uber - (Oxford, Mississippi)

Uber offers to take flu shots, nurses to you

Burlington: Uber drivers are breaking the law - (Burlington, Vermont)

Insurance Bureau of Canada warns UberX drivers about insurance coverage

New regulations being drafted for ride-sharing service Uber - (Columbia, Missouri)

Cabdrivers speak against Uber as Assembly postpones action on ride-sharing services - (Anchorage, Alaska)

As Uber and its ilk expand, cities like Anchorage struggle to regulate the 'sharing economy'

Uber no longer operating in Tuscaloosa - (Tuscaloosa, Alabama)

How cities block popular taxi-app from consumers

Beware of fake Uber drivers in Atlanta - (Atlanta, Georgia)

Orlando leaders set Uber, Lyft ordinance first read for Nov. 17 - (Orlando, Florida)




---
Europe, Africa, and the Middle East
Taxi driver killers denied leave to appeal

New Era - (Windhoek, Namibia)

October 20, 2014

WINDHOEK – The three men convicted of the murder of taxi driver Alfons Rijatue were refused leave to appeal against both their conviction and sentence in the High Court.

Judge Naomi Shivute told Jacky Jackson, Kavetu Kwandu and Isaskar Nau-Gaweseb on Friday that she saw no prospects of success in their appeal applications and did not see another court coming to a different conclusion.

They were convicted of murder, robbery with aggravating circumstances and attempting to defeat or obstruct the course of justice. They were sentenced to a combined total of 108 years.

Jackson and Kwandu were sentenced to 40 years imprisonment each and Nau-Gaweseb who had a previous conviction for murder to 42 years behind bars.

They wanted to appeal against both conviction and sentence. Judge Shivute found them of acting with a common purpose when Rijatue was shot at close range with a shotgun at the Hage Geingob Stadium during the period of April 18 to 19, 2010.

After the murder they loaded the body into Rijatue's taxi and drove it to a secluded area where they dumped the body. - more....


---
Leigh man who bit off taxi driver's ear jailed for 13 years

The Bolton News - (Bolton, England)

A DRUNKEN thug who savagely bit off part of a taxi driver's ear just months after biting another man has been given a 13-year sentence.

Dane Hodkinson, of Westleigh Lane, Leigh, carried out a "persistent and vicious attack" on Christopher Harrison in the early hours of July 13 this year.

Liverpool Crown Court heard that at about 5am Mr Harrison went to the McDonalds restaurant at the Linkway in St Helens to collect a fare.

CCTV footage played to the judge showed 26-year-old Hodkinson getting into the front passenger seat where he twice punched the driver after he asked if he had the fare, which he did not.

Both men then got out and punches were exchanged.

Judge Clement Goldstone, QC, the Recorder of Liverpool spoke of how the victim has been left physically and emotionally scarred and has had to give up his livelihood.

He said Hodkinson's 'animal behaviour' had caused his victim 'excruciating pain' and it must have been a most terrifying experience.

"He had to sell his cab and feels not surprisingly unable ever to return to work as a taxi driver," he added.

"As well as depression and high blood pressure he now suffers from post traumatic stress disorder. - more....


---
Driver 'livid' after police blew up his broken down taxi in terror scare near the Gherkin

London Evening Standard - (London, England)

Justin Davenport, Crime Editor
Published: 22 October 2014

A black cab driver was today said to be "livid" after police blew up his broken-down taxi following a terror scare in the shadow of the Gherkin.

The driver apparently said he had been forced to leave the silver Hackney cab on a rank in the City after a breakdown at the weekend.

But when he went to retrieve it yesterday morning, he discovered it had been blown up by anti-terror police.

The blast shattered the cab's rear window and damaged its back end, as well as smashing the windows of a nearby pub.

Buildings were evacuated and roads around Camomile Street and Bishopsgate closed as traffic slowed to a standstill in the heart of the Square Mile.

The driver of the cab later claimed he had broken down on Friday evening and was forced to ditch the vehicle over the weekend. - more....


---
Shropshire taxi drivers seeing red over colour policy

Shropshire Star - (Telford, Shropshire, England)

Taxi drivers across the region say many of them could lose their livelihoods if Shropshire Council votes through its draft policy on taxis and private hire cars.

The council wants to see all vehicles used for taxi or private hire comply with increasingly tough European emmissions standards over the next four years.

And, by 2018, all taxis will have to be black and be wheelchair accessible.

The latter condition is, drivers say, not only unfair to them, but discriminatory against most disabled people, the elderly and those with mobility problems, who cannot clamber up into the high vehicles needed to accommodate a wheelchair.

They are urging as many licensed cab drivers to attend a forum meeting at the Shirehall this month where the issue will be discussed.

One of those who claims he will fall foul of the proposals is Mark Higgins who runs Berwyn Cars.

"I have just bought a fully wheelchair accessible taxi – but it is white," he said.

"It would cost about £4,000 to change the colour, which is money I don't have."

"For most people it will mean changing their vehicle. With the economy at it is at the moment this is something that will be the last straw for a lot of taxi drivers. - more....


---
Taxi driver gets parking ticket while helping elderly customer

The Westmorland Gazette - (Kendal, Cumbria)

Last updated by Rachel Kitchen

A TAXI driver has branded as 'absolutely ridiculous' a local authority's decision to give him a parking ticket as he helped a confused elderly woman.

Jason Beattie, 44, drives for Kendal's Blue Star Taxis, which appealed the £35 fine on compassionate grounds.

But Cumbria County Council decided not to cancel the ticket - a decision the taxi driver describes as 'draconian'.

Mr Beattie collected the woman, described as in her 80s and walking with a frame, from sheltered housing in Kendal on September 3.

He said she was confused about the location of her chiropody appointment and, after unsuccessfully trying Blackhall Road and Sandes Avenue, the customer asked to be taken to the Market Place.

As it was market day, the taxi rank there was unavailable, so Mr Beattie 'tucked away' the Peugeot Partner vehicle beside the war memorial and escorted his passenger through the busy market.

It was then that she showed him her appointment letter, which explained that the the chiropodist was located at the Blackhall Unit at Westmorland General Hospital, not Blackhall Road.

Concerned for his passenger's welfare, Mr Beattie guided her back to the taxi, where a parking ticket had been issued during his 10 to 15-minute absence.

"I thought it was absolutely ridiculous," he said. "It could have been my mum or my grandma and I couldn't leave anybody like that." - more....


---
Cab firm in white driver service

Belfast Telegraph - (Belfast, Northern Ireland)

A minicab company in Rochdale will send white drivers if customers ask for them

22 October 2014

The firm has received requests in Heywood, Rochdale, after two local drivers were jailed for their part in the rape and trafficking of young white girls.

Stephen Campbell, manager of Car 2000, said the number of people asking for a white driver shot up after the 2012 grooming case.

After a dip, it has nudged up again in the wake of fears about Britons who sympathise with terror group Islamic State (IS).

Mr Campbell said: "We don't promote anything like this, but if you ring up and say 'can I have a white driver?' we will provide one. We are offering a service.

"Initially, back in 2012, the number of people asking for white drivers went up, then it went back down. It has gone up again a bit since this coverage of IS. I think people are being programmed by what they watch on the news.

"They ask for 'local' drivers and by that they mean white. The ridiculous thing is all my drivers are local - they were all born here.

"All taxi drivers get abuse, but Asian drivers put up with more abuse than anyone else."

The move comes amid rising tensions in Rochdale following revelations of gang rapes, grooming and trafficking of white girls at the hands of mainly Asian gangs.

Nine men from Pakistan and Afghanistan were jailed for a total of 77 years in May 2012 for plying young, vulnerable girls with drink and drugs so they could "pass them around" for sex. - more....


---
'Our drivers must speak English' - controversy over pub landlord's David Utting's new Cambridge town and gown taxi service

Cambridge News - (Cambridge, Cambridgeshire, England)

By CambridgeNews | Posted: October 18, 2014
By RAYMOND BROWN

A pub landlord has launched a controversial new 'town and gown' taxi service in Cambridge because he was sick of his punters being ripped off and drivers not speaking English.

Dave Utting, landlord of The Empress in Thoday Street, and The Emperor in Hills Road, launched Town and Gown about three months ago and already has 45 taxis on the road and another 15 radios for other drivers.

He is competing for business against a raft of other companies and has come under for accusing other taxi drivers of "overcharging".

Mr Utting said: "As a local businessman and an ex-copper I wanted to have my own cab company as I got sick of the service of a few taxi drivers.

"They didn't open the door for customers, wouldn't come into the pub and look for them and would take them the long way around just to get more money.

"I am sure some taxi drivers in Cambridge are excellent but there are some who are not and I wanted to provide a good service for my customers.

"Business is booming. We are a great service and we are called Town and Gown because we are the townies and we work closely with the colleges with many students and tutors being our customers. The public love the service we provide.

"We only have radios so our drivers must have a good level of English. We have Turkish, Bangladeshi and drivers from all over. They do need to have a good grasp of English." - more....


---
Taxi drivers slammed for refusing fares

Leamington Observer - (Leamington Spa, Warwickshire, England)

By Laura Kearns Wednesday 17 September 2014 Updated: 25/09 08:28

TAXI drivers in Leamington are putting students' safety at risk by illegally refusing to take people short distances.

A survey by the University of Warwick Students' Union (WSU) revealed more than half of the 500 people questioned had been refused lifts by drivers because they wanted longer more profitable fares.

WSU development officer Rob Ankcorn said: "These shocking results reveal that some taxis are regularly breaking the law. By refusing short journeys they are putting young people in danger.

"This is not just a problem for our students but for all young people in general. While we appreciate that not all taxi companies are to be tarnished with the same brush, we are working with the council to stamp out this unacceptable behaviour."

There are around 6,000 students living in Leamington and 23,000 studying at Warwick University. - more....


---
Decision time for borough's taxi drivers

Lancashire Evening Post - (Preston, Lancashire, England)

Published on the 21 October 2014

A row has broken out over a policy that would transform taxis in South Ribble.

Members of South Ribble Council's licensing committee must decide tonight whether to uphold a 2005 decision, requiring all the borough's taxis to be wheelchair accessible by next April.

Although firms were given 10 years to prepare, many are now pressing for a change of rules, claiming there isn't enough demand to justify modifying every vehicle.

Independent driver John Gregory of Leyland said: "We don't want to isolate disabled people, but we don't want to isolate all of the borough either. The luxury of travelling in a saloon car will be taken away. For some of the elderly, it isn't always practical for them to use a ramp so a smaller car is much easier."

Cab owners will have to fund the cars themselves - a bill that could reach £30,000 - and their petition has gained hundreds of signatures from the public.

Mr Gregory added wheelchair users usually pre-book, and fares might have to go up to cover upgrade costs. - more....


---
Taxi firm turns down blind army veteran with guide dog

Surrey Advertiser - (Guildford, Surrey, England)

Oct 23, 2014 08:09
By Matt Strudwick

A blind army veteran said he was turned away by a taxi firm because he has a guide dog.

Peter Williams said Galaxy Cars told him they would not be able to collect him from The Lightbox in Woking and take him to his home in Staines last Friday (October 17) because "they do not take dogs of any sort".

Mr Williams, who served in the Royal Signals from 1968, was at the museum for a Blind Veterans UK awareness exhibition when he called for the taxi between 2.30pm and 3pm.

He has only had his two-year-old guide dog, Amos, for 16 weeks and said he was told by the phone operator that Galaxy would not be able to collect him as he has a dog.

Mr Williams claims the firm then hung up.

"I'm disgusted with it," said the 63-year-old. "It's very disappointing. I was given a guide dog so I had more of a life and had some independence as I can't get about that well." - more....


---
Tesla Taxis Now Run at Amsterdam Airport

International Business Times - (Internet)

By Zachary Davies Boren
October 23, 2014 21:18 BST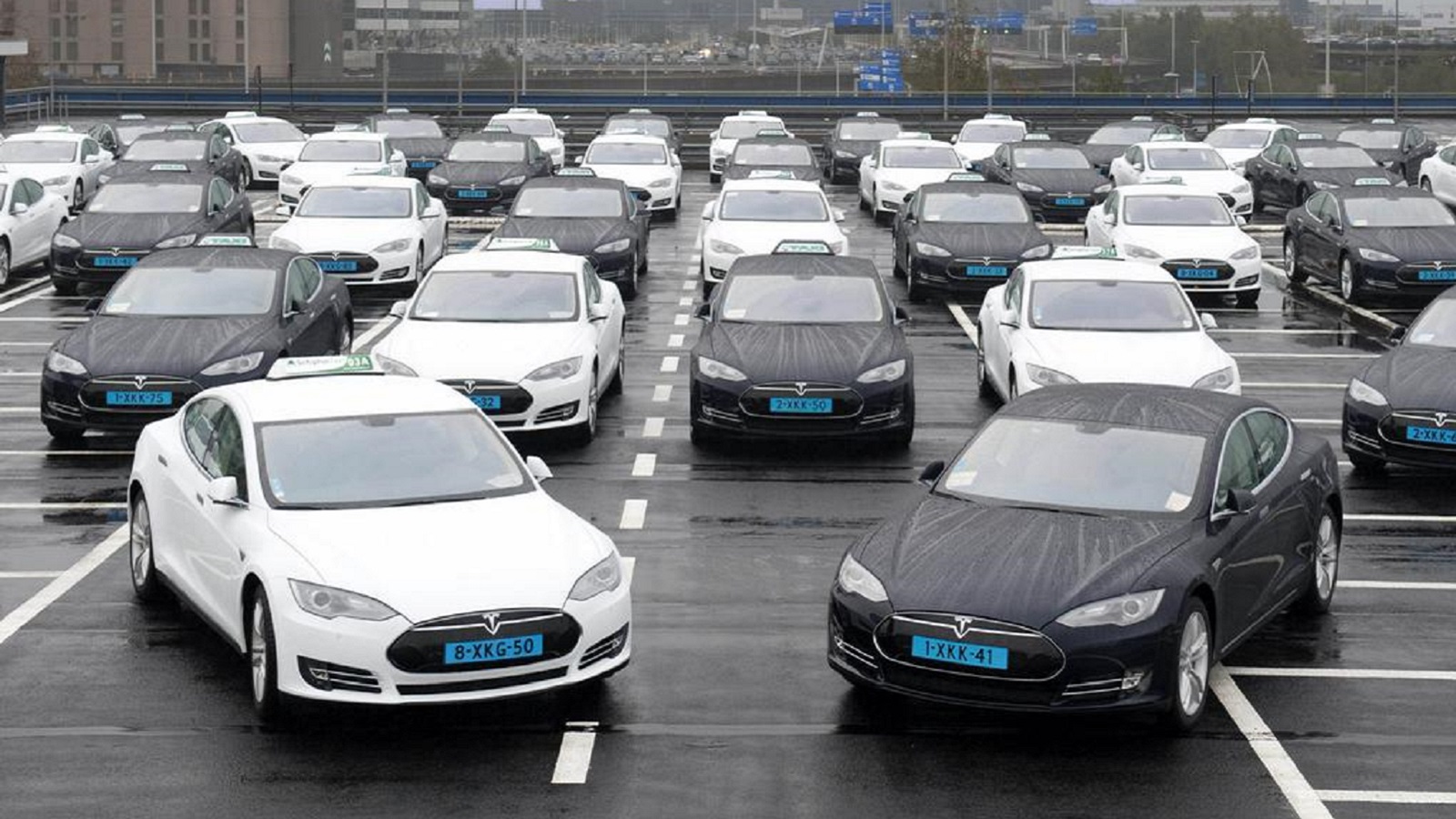 The fleet of Tesla taxis at Schiphol airport(Gas2)

Amsterdam's main airport has a state-of-the-art taxi fleet, having purchased 167 Tesla Model S cars in a bid to reduce its carbon footprint.

The Schiphol airport, already among the least pollutant airports in the world, is restructuring its taxi service, and will allow three companies to use the Tesla electric cars, reports CleanTechnica.

The Dutch government has in place incentives for people and organisations to use vehicles of environmentally-friendly design, not to mention the fact that Tesla's Europeean assmbly plant is based in the Netherlands.

These measures keep the price down, with the Nissan e-NV200 electric van going for as little as $10,000. - more....


---
Spanish cities deploy electric taxi fleet

The Green Car Website - (Internet)

Electric taxis are the order of the day in Madrid and Barcelona; where a fleet of Nissan LEAF and e-NV200 electric vehicles are set to go to work.

In Madrid a new Nissan LEAF fully electric supermini is set to start work under the stewardship of Antonio Berzal Prieto; the city's first electric taxi driver.

Over in Barcelona, where the new e-NV200 is built, three of the fully electric vans now also take on the role of taxi. The introduction of the electric taxis onto the city's streets is all part of a memorandum of understanding signed last year between Nissan the Barcelona city council and the Barcelona Metropolitan Area.

The e-NV200 began production in Barcelona in May, with the Catalan city building the electric commercial vehicle for the global market. - more....


---
Tough time for taxi drivers as FCT task force intensifies raids

Vanguard - (Lagos, Nigeria)

on October 22, 2014
BY FAVOUR NNABUGWU

Tragedy was averted at the weekend when officials of the Nigeria Immigration Service, NIS, raided Area 1 Shopping Complex in Abuja, creating panic and confusion in the area. Among those counting their losses on account of the incident is the owner of a red sports utility vehicle, SUV, which was parked by the shopping complex.

The car was damaged when a taxi cab rammed into it as the cab driver was trying to make a quick get away from the scene.

Vanguard Metro, VM, which witnessed the incident was taken aback as others present when the NIS pickup car made a sudden stop near the supposed taxi park with six taxi cabs loading Areas: 11, 111 and 10.

And almost immediately some officials in uniform and mufti alighted from the pick-up and headed for the taxi cabs waiting to pick passengers.

They promptly impounded two of the taxi cabs and thereafter crammed themselves inside.

While this was going on, the drivers of other taxi cabs quickly dived into their own cars and zoomed off. But one of them who tried to prevent an Immigration official from entering his taxi had the screen of the car shattered.

It was while he was trying to reverse and manoeuvre his cab out of the place that it hit the red SUV car whose driver and a companion seated beside him luckily escaped unhurt. - more....


---
"I Won't Quit My Taxi Driving"

Ghana Web - (Internet)

Highlife musician Kumi Guitar has stated that unless his management directs him to stop commercial driving, he has no intention of giving up his profession as a Taxi driver.

Nana Yaw Kumi, his official name, has worked as a commercial cab driver for years now and believed it is one of the reasons his fans like him.

"I do not feel discouraged at all that I still drive a Taxi. I feel my Taxi driving is part of the reasons Ghanaians like me. It was through the Taxi driving that I met my boss, Mark Okraku Mantey," he indicated.

"The Taxi also feeds me at some point as well. Until my management says I have reached a point in my career where I should stop driving a Taxi, I won't stop driving my Taxi," the 'Break Into Two' singer added. - more....


---
Uber France Cancels Promo With Free Car Rides From Beautiful Ladies

Consumerist - (Internet)

By Laura Northrup October 22, 2014

Uber is currently trying to take over France. As in many areas where the app is trying to expand, French authorities have imposed restrictions and even a €100,000 fine on the company for being an unregulated taxi service. Uber's response was an poorly thought-out promotion in the city of Lyon where passengers could go for 20-minute rides in cars chauffeured by beautiful ladies.

"Avions de Chasse" means "fighter jets" in French, and is also a colloquial term meaning, more or less, "hot chick." That's why it's the name of an app featuring pictures of and opportunities to meet hot ladies. However, Uber in the southern city of Lyon may not have thought their plan all the way through when they decided to offer 20-minute rides chauffeured by the beautiful fighter jets of Lyon. - more....


---
Uber: Hacking South Africa's Cities In A Taxi Cab
Uber adds 6 and 8 seater cars to its fleet in London and Manchester
Uber taxi app heads to Leeds as Unite union cabbies protest
---
Differing versions: Taxi driver injured in 'encounter'

The Express Tribune - (Karachi, Pakistan)

By Our Correspondent
Published: October 19, 2014

A taxi driver was critically injured when police opened fire at him in Khanpur on Saturday morning.

Police termed it an 'encounter' with carjackers while the injured driver claimed he was the owner of a taxi and was chasing three passengers who fled without paying the fare.

According to the version of the Khanpur police, they received an intelligence report about a car stolen from Rawalpindi and the suspected carjackers heading to Haripur city. Police added they then approached a suspicious car, but its four occupants attempted to flee.

In order to stop them from escaping, police opened fire, injuring one person while the other three escaped. The injured man was subsequently arrested and shifted to Khanpur Hospital where he was identified as Noor Alam, son of Zahid of Lambi Dheri village in Abbottabad.

Speaking to journalists, the injured man contested police claims, saying he was not a carjacker and drove a taxi for a living. He told the media three unidentified men hired his car to go to Haripur for Rs1,700 but when they reached Khanpur Dam, the men stopped the car after seeing the police and started fleeing.

"When I ran after them for the fare, police opened fire at me, injuring me severely," said Alam, adding he did not even know who the three men were. The injured driver was later referred to District Headquarters Hospital, Haripur in critical condition as his legs were bleeding profusely, said doctors.


---
Uber Driver in Australia Arrested by Hire-Car Vigilante

Yahoo News - (Internet)

IB TimesBy Anthony Cuthbertson | IB Times – Mon, Oct 20, 2014

A former riot-police officer turned hire-car driver in Australia has taken it upon himself to crackdown on UberX drivers operating illegally.

Russell Howarth, founder of the group Arresting Uber, made his first citizen's arrests on a driver in Sydney last week and plans to carry out 10 more this week in an effort to raise awareness of unlicensed drivers transporting passengers illegally through the UberX service.

Uber currently operates in over 200 cities across 45 countries around the world and is continuing to expand internationally despite resistance from local taxi organisations and unions. UberX markets itself as the "low-cost Uber" in which drivers use their own vehicles without the need for a "vehicle for hire" license.

"Uber commits more offences and makes more money than any organised crime group in the world," Howarth told IBTimes UK. "The enormity of the illegal activity of Uber is incredible." - more....


---
Taxi app goCatch teams rich-list backers to take on Cabcharge

The Sydney Morning Herald - (Sydney, Australia)

Date: October 20, 2014
Adele Ferguson
Business columnist

On Friday, some of the country's most successful entrepreneurs and rich-list families backed an equity raising of taxi booking and payments app goCatch in the race to "break apart" the country's powerful $5.4 billion taxi industry.

Some of the backers of the business include billionaire family the Kahlbetzers, the Millner family, fund manager David Paradice, Malcolm Turnbull's son, Alex, and Square Peg, a technology venture capital firm backed by James Packer, Seek co-founder Paul Bassat and the billionaire Liberman family.

In a confidential presentation, goCatch's goal was simple: to capture a "dominant share" of the taxi market. It was a shot across the bow to incumbents. The company told investors: "goCatch is breaking apart the Cabcharge network model and redefining how the industry works."

It is big talk for a company that is still a minnow, valued at $19 million, compared with Cabcharge's market capitalisation of almost $600 million.

Its self-belief is coming from the emergence of disruptive smartphone technology and a loosening regulatory environment that began in 2012 when former competition tsar Allan Fels released a controversial report into the Victorian taxi industry.

The report put the spotlight on the many inefficiencies and arguably restrictive trade practices of the sector. More recently, the Harper review into competition called for reform.

Inspiration is also coming from the rise and rise of Uber, a US-based business that launched a phone app four years ago and now operates in 45 countries, including Australia. It is valued at more than $18 billion and Uber's Australian operations are valued at $728 million, according to the goCatch presentation.

goCatch co-founder and chief executive Ned Moorefield says that, when he was looking to start a business in 2011, he examined what kind of new business models were emerging with smartphones.

"We then looked at the industries with monopolies and ones that didn't have good service levels, and we then started researching countries such as Germany, [and cities such as] London and San Francisco," Moorefield says.

The taxi industry was ripe for reform. "People were screaming out for change." - more....


---
Mediation system to help cabbies resolve disputes with companies

Channel News Asia - (Singapore)

By Saifulbahri Ismail
POSTED: 22 Oct 2014 21:19
UPDATED: 23 Oct 2014 00:29

The Taxi Industry Mediation system, which is on trial, aims to help drivers with issues they face with their companies.

SINGAPORE: Taxi drivers can now turn to a more structured system to help settle disputes with their taxi companies quickly and amicably.

The Taxi Industry Mediation system is a collaboration between the Land Transport Authority (LTA), taxi companies and National Taxi Association (NTA). It was launched in July, and is on trial for six months.

The National Taxi Association receives about 10 cases a week on a range of issues which drivers face with their taxi companies, insurance firms or between drivers themselves. A top complaint is drivers feeling they were unfairly terminated due to service lapses.

"For example, one was rude to the customer, or didn't fulfil the booking on time, and after one or two times the company may decide to terminate the agreement, and therefore one cannot drive with this operator anymore," said Ang Hin Kee, executive advisor of National Taxi Association. "That impacts their livelihood, and many times it has been such that it's your word against mine.

"We found that perhaps a better way is to have parties sit down together through a neutral body, like a mediation system to work out the best solution moving forward, rather than people are feeling aggrieved that their version of the facts are not properly addressed."

Cabbies also often get into disputes over the amount they have to pay in the event of an accident. - more....


---
Much ado about Uber

The Star - (Petaling Jaya, Malaysia)

by shahanaaz habib

The presence of the Uber taxi service has got local taxi operators and the authorities up in arms albeit for different reasons.

HAVING tried out their service himself, Land and Public Transport Commission (SPAD) chairman Tan Sri Syed Hamid Albar admits that the drivers and cars dispatched by Uber are better than the regular local taxis.

But without the necessary Public Service Vehicle (PSV) licence, he says, they are just "honourable teksi sapu".

SPAD has no quarrel with this popular app other than whether its vehicles are authorised to function as taxis but Uber must operate within the law, he stresses.

Still, he notes, Uber should be a wake up call to local taxi operators to step up their game, improve their service and system and make sure their taxis are good and clean, the drivers are courteous and that they do not rip off customers including tourists who might be hesitant to get into a local cab because of all the stories they have heard. - more....


---
Following a nasty sting operation, Manila authorities give Uber a nice pat on the back
Uber expands carpool option to 6 new cities across China
---
Ender Wiggin

Updated oct 24 @ 23:11 GMT

+++++++++++++++++++++++++++++++++++++++++++++++++++++
Taxi News Archive