nicely understated Olympic ceremony
tap-dancing militant Islamic fundamentalists
Obamacare is a well run compassionate health care program

The Taxi News for Thursday September 18, 2014






Man charged with killing cab driver due at preliminary hearing

WLKY-TV Channel 32 - (Louisville, Kentucky)

Published 9:47 AM EDT Sep 17, 2014

A man charged with killing a Louisville cab driver is due in court for a preliminary hearing.

Miles Matthews, 27, is charged with the murder of 34-year old Adam Gregg.

Police say Matthews called for a cab from a Preston Highway motel in July and then murdered Gregg before dumping his body in Oldham County.

Matthews is charged with murder and theft.


---
Taxi Driver Stabbing Suspect Back in Court

It's Relevant- (Stamford, Connecticut)

Victim's family, friends hoping for conviction, life sentence

By: Christina Chiarelli
Stamford, CT | Added on September 16, 2014 At 04:28 PM

The man who's charged with the murder of a Stamford taxi driver was back in court Tuesday. The suspect -- 29-year-old Shota Mekoshvili -- is pleading not guilty in the stabbing death of 47-year-old Mahomed Kamal.

Off camera, family friend Kamrun Mannan says Kamal was a hard working family man, and is survived by his wife and their 3-year-old son.

"They had so many dreams and so much planned out. Not just for the coming months but for a couple of years. They were planning on having another baby and getting their son in school. That's all shattered because of this guy, just because of his decision to kill him," said Mannan. - more....


---
Calgary MP Devinder Shory warns council more taxi plates could hurt drivers' earnings

Metro News - (Calgary, Alberta)

By Jeremy Nolais Metro
September 16, 2014

As city council prepares to debate the addition of hundreds more cabs to Calgary streets, a local MP has issued a written warning to municipal lawmakers that such a move could threaten the earnings of current drivers.

Calgary Northeast MP Devinder Shory wrote to Mayor Naheed Nenshi and members of council after meeting numerous drivers concerned about a recommendation coming forward from livery officials Monday that recommends introducing 383 more taxi plates to the city.

"Through my consultations with taxi cab drivers, businesses and stakeholders have made it clear to me that they believe that the 383 proposed new taxi plates should not be issued all at once and that doing so will increase the number of cabs on the road and will make it increasingly difficult to compete for fares during non-peak operating hours, thus threatening cab drivers' livelihoods," Shory wrote in the letter obtained by Metro.

Shory also said drivers are concerned about the emergence of rideshare app Uber — officials behind the increasingly popular smartphone offering have expressed an interest in the Calgary market but say "archaic" rules around minimum fares for luxury rides must change.

Calls to Shory's Calgary Northeast constituency office Monday were not returned. - more....


---
Judge approves city's push for wheelchair-accessible cabs and 30-cent surcharge

New York Daily News - (New York City, New York)

BY Stephen Rex Brown
NEW YORK DAILY NEWS
Tuesday, September 16, 2014, 2:11 PM

Under the agreement, half of the cities yellow cabs will be wheelchair-accessible by 2020. Chris Hondros/Getty Images Under the agreement, half of the cities yellow cabs will be wheelchair-accessible by 2020.

A Manhattan Federal court judge approved the city's agreement Tuesday to make half of its fleet of yellow cabs wheelchair-accessible by 2020, calling it "one of the most significant acts of inclusion in this city since Jackie Robinson joined the Brooklyn Dodgers."

Judge George Daniels got choked up while signing off on the city's settlement reached with the Taxis for All Campaign advocacy group.

"We should not minimize the importance of this historic moment. Decades from now, most will take it for granted," he said.

"It makes us a better city. It is simply the right thing to do."

The settlement, which was approved by the Taxi and Limousine Commission in April, implements a 30-cent surcharge for all fares starting in 2015 that will fund a new fleet of 7,500 wheelchair-accessible cabs. Each of the new cabs will cost roughly $15,000.

"It's a great thing for the disabled community," said Dustin Jones, 26, of Queens, who uses a wheelchair. "It's long overdue. We have the option if we like to travel around like anybody else." - more....


---
Ride services decimate S.F. taxi industry's business

San Francisco Chronicle - (San Francisco, California)

Michael Cabanatuan
Updated 6:42 pm, Tuesday, September 16, 2014

The fall of the taxi industry in San Francisco, as less-regulated ride services have taken hold, has been both steep and sharp. The number of trips taken by taxi plummeted 65 percent in just 15 months, according to a report presented to the San Francisco Municipal Transportation Agency board Tuesday.

It's been evident that the booming popularity of app-dispatched ride services like Lyft and Uber have dramatically eaten into the taxi industry's business. But the report on the status of the taxi industry reveals the depth of the impact.

The average number of trips per taxi has been on a steady slide - from 1,424 per month in March 2012 to 504 this July.

The new ride services "have dramatically changed the for-hire transportation industry in San Francisco," said Kate Toran, the city's new taxis and accessible services director.

While the MTA regulates the taxi industry, the state Public Utilities Commission has claimed jurisdiction over the new ride services, which typically contract with people to use their personal cars to carry passengers who hail them with a smartphone app. - more....


---
Uber issuing messages that it wants to roll in New Orleans but still opposes some city regulations

The Times-Picayune - (New Orleans, Louisiana)

By Mark Waller, NOLA.com | The Times-Picayune
on September 16, 2014 at 12:39 PM

The Uber digital ride finding company is issuing online messages indicating it plans to begin operating in New Orleans soon, while simultaneously protesting city regulations that it says remain in the way.

The New Orleans City Council earlier this month approved rule changes clearing some regulatory blocks on the much-debated service, such as a previous requirement that luxury car trips must last at least three hours. But the council kept a minimum fare requirement for premium car rides, with the lowest tier starting at $15. Uber opposes the minimum fare.

The Uber_NOLA Twitter account on Friday tweeted: "We can't wait to get rolling in the big easy soon." It linked to an article on Uber's website saying the City Council helped but didn't go far enough. - more....


---
Uber Drivers Cited In Fayetteville

Ride-sharing Service Not Permitted Under City Code

Benton County Daily Record - (Bentonville, Arkansas)

By Joel Walsh
Posted: September 16, 2014 at 1:30 a.m.

FAYETTEVILLE -- Two drivers for the ride-sharing service Uber were ticketed over the weekend for violating a city ordinance.

The company, which connects independent drivers with customers using a mobile app, launched in Fayetteville late last month, despite objections from City Attorney Kit Williams.

City code requires all taxicab companies to obtain a certificate of public convenience and necessity, which must be approved by the City Council. All applicants have to submit to a background check. Companies must provide proof of liability insurance covering commercial vehicles. All vehicles are subject to a city inspection and must display a permit decal.

Neither Uber nor any of its drivers have met those requirements.

Fayetteville Police Sgt. Craig Stout said Monday officers arranged for a ride from Aaron Welch, 31, of Rogers through Uber's mobile app. When they met Welch at 251 N. West Ave. on Saturday evening, they issued him citations for operating without a certificate of public convenience and necessity and operating without a taxi inspection decal.

Welch was driving a 2013 Hyundai Sonata. He faces $185 in fines. - more....


---
This chart bodes very badly for the taxi industry in its battle against Uber

The Washington Post - (Washington D.C.)


---
Tuscaloosa police arrest Uber driver for possession of nearly quarter pound marijuana, drinking vodka while driving

The Huntsville Times - (Huntsville, Alabama)

Sarah A. McCarty
on September 17, 2014 at 11:27 AM

TUSCALOOSA, Alabama -- Less than month since Uber launched its ride-share service in Tuscaloosa, police have arrested one driver for possession of marijuana and issued several citations to other drivers for violating the city's taxicab ordinance.

Tuscaloosa police charged an Urber driver last week with possession of marijuana and possession of drug paraphernalia. Police also issued the driver, Brandon Devante Oliver, 21, of Tuscaloosa, citations for driving on a suspended license, violation of the open beverage law, not having a tag light, operating a vehicle for hire without a business license, not having a chauffeur permit, and operating a vehicle for hire without proper insurance.

The arrest was part of an undercover operation by the Tuscaloosa Police Department, which released a statement earlier this month saying that according to the city's taxicab ordinance "all drivers and companies that are involved in a taxi service or ride sharing program" must have a business license, a chauffeur license, a background check and vehicle inspection. - more....


---
SheRides Puts Brakes On App Launch Due To Overwhelming Customer Demand

WINS-AM 1010 - (New York City, New York)

September 15, 2014 6:48 PM

NEW YORK (CBSNewYork/AP) — The so-called SheTaxis have hit a bump in the road.

As 1010 WINS' Sonia Rincon reported, there has been so much interest in SheRides from women who want female cabbies that the company is holding off for now on launching the app in New York City.

SheRides spokeswoman Tamika Mallory said that's because they only have 100 female cab drivers ready to go.

"We need at least 500 drivers in order for us to be able to come into the market and release our app to the public," Mallory said.

"We're not going to carry money at all," she said. "And we're going to be very safe because for you to get in my car they're going to have your picture in the app. You're going to see my face, and I'm going to see who I'm picking up, too."

The company is still launching its website and opening up offices in Long Island City and Mamaroneck to recruit drivers, Rincon reported.

Fewer than 3 percent of the city's 115,000 licensed taxi, livery and limousine drivers are women, and that can be a problem for women who are reluctant to get into a cab alone with a male driver because of safety concerns or religious and social mores.

New York State Federation of Taxi Drivers spokesman Fernando Mateo called it a civil rights issue, WCBS 880's Alex Silverman reported.

"We are telling women that are sitting home that fear coming into this industry — come on in," Mateo said.

Taxi and Limousine Commission regulations say for-hire car services are prohibited from refusing customers. The app's creator, Stella Mateo — Fernando Mateo's wife — said female drivers registered with her app are free to pick up anyone they want; the app merely helps women who are looking for female drivers.

SheTaxi, called SheRides in New York City, has been two years in the making. It will be available for the iPhone initially, and an Android version is in the works. There also are plans to expand to other cities.


---
TLC revisits rule cracking down on taxi startup Lyft

Crain's New York Business - (New York City, New York)

Andrew J. Hawkins
September 16, 2014 1:59 p.m.

After proposing—then dropping—a new rule that would make it harder for taxi startups like Lyft and Uber to share each others' drivers, the Taxi and Limousine Commission is taking another run at cracking down on the practice.

The new rule would prohibit for-hire vehicle bases from dispatching drivers affiliated with rival bases without first obtaining permission from the base owner. As first reported by Crain's, some customers were confused when, after hailing a Lyft car, an Uber driver would show up instead.

With these experiences mounting, Uber complained to the TLC that Lyft was exploiting a loophole that allowed it to poach Uber drivers as long as it displayed the base number to customers. In response, the TLC blasted out an industrywide notice in early August declaring its intention to close the loophole, but suddenly reversed course after Lyft complained that would jeopardize its ability to attract new customers.

On Tuesday, the TLC said it would hold a public hearing in October on a proposed rule to "require [for-hire vehicle] bases to submit trip records to the TLC, prohibit dispatching another base's vehicles without an agreement between the bases, prohibit dispatching a vehicle affiliated with a different class of FHV base, and require bases to provide the customer with the name and license number of the base with which the dispatched car is affiliated."

The proposal has Lyft in a frenzy over the possible effects on its business. The company says it could eliminate a "tremendous amount" of drivers from its pool of usable vehicles and hand Uber a veritable "monopoly" over the for-hire vehicle business. - more....


---
Rivals Uber and Lyft battling TLC dispatch proposal

AM New York - (New York City, New York)

By DAN RIVOLI September 16, 2014

Uber and Lyft are bitter rivals in the taxi app game, but they have found common ground: Opposing Taxi and Limousine Commission rules on how people will get their smartphone-summoned ride.

The TLC said Tuesday it will revive a proposal to stop bases from dispatching another base's car, unless both owners agree -- an unlikely scenario between Uber and Lyft. That means drivers who use both services would have a smaller pool of fares and it could be a hurdle for companies to attract enough drivers to meet their demand.

"We are concerned the proposed TLC rule changes will have unintended consequences that limit driver flexibility, reduce consumer convenience and squash innovation in the NYC transportation market," said David Mack, Lyft's director of public affairs. Meanwhile, Uber put out a statement that said the TLC rules are "bad for both riders and drivers." - more....


---
Ride-sharing service Uber plans Anchorage rollout

Memphis City Council talks about fees for Lyft, Uber

Uber ride service looking for drivers in Cedar Rapids, Iowa City

Uber ride-sharing program seeks Ottawa drivers

Plan could temporarily legalize Uber and Lyft - (Austin, Texas)


---
Europe, Africa, and the Middle East

British hostage: Taxi driver who 'just wanted to help'

The Daily Star - (Beirut, Lebanon)

Sep. 16, 2014 | 12:12 AM

LONDON: A British hostage who is being threatened by ISIS militants is a taxi driver from northern England who volunteered to drive a humanitarian aid convoy to Syria for a Muslim charity.

Alan Henning, a 47-year-old father of two teenage children, was shown in the same video released Saturday that documented the gruesome murder of Briton David Haines.

He was kidnapped in December as he was driving with an unofficial aid convoy to a camp for internally displaced people in Syria.

Henning's family lives in Eccles near Manchester. Nicknamed "Gadget" for his love for new technology, he was not a professional aid worker but friends and colleagues said he was touched by the suffering of Syria's civilian population.

He joined a group of Muslim friends who founded the charity "Aid4Syria" and had the name tattooed on his arm, said Catrin Nye from the BBC Asian Network, who met him before his trip.

She described him as a "very likable" and "funny" man and said he had been "inspired" by friends who had been to Syria.

"Alan is a man who is full of compassion," said Kasim Jameel, a friend and fellow taxi driver from the Manchester area, who also helped organize the convoys, the Times newspaper reported.

Jameel said Henning had insisted on taking part in the convoy instead of spending the New Year's holidays with his family. - more....


---
Peterborough cabbies protest following attack

Peterborough Telegraph - (Peterborough, Cambridgeshire, England)

Published on the 16 September 2014

Dozens of Hackney Carriage drivers held the protest in Westgate, Peterborough at about 1pm.

The protest followed a brutal assault on fellow driver Nasar Khan on Friday, September 5 in Peterborough.

Mr Khan's brother, Imran, said: "Taxi drivers have been left traumatised after the attack on my brother.

"The attack on my brother left him hospitalised for over 5 days and him not been able to leave the house.

"He has sustained head and eye injuries and has less movement in his right arm.

"He feels his taxi career has come to and abrupt end and left him to ponder about his future."

Imran also called for a meeting with police and the council to improve security for hackney drivers in the city.


---
German judge lifts temporary ban on Uber ride-sharing

Reuters - (Internet)

By Eric Auchard and Harro Ten Wolde

FRANKFURT Tue Sep 16, 2014 12:39pm EDT

(Reuters) - A Frankfurt judge granted a reprieve to Uber, the online transportation service, setting aside a temporary injunction issued two weeks ago against the Silicon Valley company from operating a novel car-sharing service across Germany.

Frankfurt Regional Court Judge Frowin Kurth said on Tuesday that the issues in the case brought against Uber by German taxi operator group Taxi Deutschland deserved a fuller airing in court, but lacked the urgency for a temporary injunction.

"There could still be grounds for an injunction" against Uber, Kurth said in deciding on the company's appeal of the court's original decision. "But during our deliberations it became clear there were no grounds for an immediate injunction."

The lawsuit, which pits taxi operators against the fast-growing U.S. start-up recently valued at around $18 billion, has underscored Germany's mounting unease over the impact of digital technology on established businesses and institutions.

Taxi Deutschland had sought the injunction as part of a civil lawsuit to bar the company's ride-sharing service, citing what it saw as unfair competition by Uber against the professional taxi drivers whom it represents.

The original injunction barred Uber from using its Uberpop mobile phone app to connect ride-sharing drivers to potential passengers, ruling that Uber's network of volunteer drivers lacked the commercial licenses to charge passengers for rides.

Each infraction of the court's injunction carried fines of up to 250,000 euros ($323,775). Uber quickly appealed the ruling, leading to Tuesday's hearing.

Taxi Deutschland said in a statement it was baffled by Tuesday's decision.

"The taxi industry accepts competitors who comply with the law. Uber does not. That is why we are announcing today that we will go immediately to appeal," it said. - more....


---
German Taxi Drivers to Appeal Lifting of Uber Ban

The Wall Street Journal - (New York City, New York)

By Ulrike Dauer
Updated Sept. 16, 2014 10:51 a.m. ET

FRANKFURT—German taxi drivers will appeal a decision by a Frankfurt court removing a nationwide ban on Uber Inc.'s UberPop service, the drivers' association said Tuesday.

The ban, which put a serious roadblock in the way of Uber's expansion plans in Germany, was removed when the court lifted a temporary injunction against UberPop. The injunction had been imposed last month after the taxi drivers filed a complaint saying UberPop, which connects passengers with drivers who lack professional transportation licenses, posed... - Subscription Required


---
Uber now cheaper than the Tube in London

Mareeg Media - (Internet)

Posted on September 14, 2014 by Warsame in English, World news

Uber has announced a 15% price cut on all UberX journeys effective from 3pm today (August 29).

Uber is a smartphone app that allows users to call a taxi to wherever they are.

They are given a choice of different types of taxi, with the UberX offering being the cheapest.

The drop in cost combined with a new minimum £5 fare for journeys means that fare splitting would put UberX trips cheaper than the Tube at peak times.

The application has caused controversy of late, with the London Taxi Drivers Association (LTDA) arguing that it disrupts the business model of black cabs by acting like a taxi meter, which private cars are not permitted to use. Source m.digitalspy.co.uk New to @Uber_Lodon? Use jaxwt for £10 off your first ride. Sign up here! http://t.co/ss0FWHl0kU


---
E-cigarettes set to be banned from taxis

Lancashire Telegraph - (Blackburn, Lancashire, England)

First published in News Lancashire Telegraph:

SMOKING electronic cigarettes in taxis in the Ribble Valley could be banned under plans to be discussed today.

The borough licensing committee will consider the proposal to alter the standard conditions for private hire and hackney carriage vehicles.

If the idea is approved a driver shall 'not smoke in the vehicle or permit any passenger to smoke in the vehicle, which for the avoidable of doubt shall include smoking or using electronic cigarette or any other vapour-producing smoking device'.

The idea was first discussed in March after the council received a query from a taxi driver over whether the existing smoking ban included electronic cigarettes.

The council's conditions for taxi drivers simply state that they must 'not smoke in the vehicle or permit any passenger to smoke in the vehicle', with no mention of e-cigarettes.

Smoking is defined in the 2006 Health Act as 'smoking tobacco or anything which contains tobacco' and being 'in possession of lit tobacco'. - more....


---
Merseyside taxi drivers may no longer face 'knowledge' test

Liverpool Echo - (Liverpool, England)

Sep 17, 2014 10:55
By Georgina Stubbs

Merseyside taxi drivers may no longer face 'knowledge' test

Taxi drivers at some of Merseyside's biggest firms may be allowed to carry passengers without taking the traditional "Knowledge" test.

Sefton council's licensing committee will decide on Monday whether to keep or scrap the controversial Knowledge Test which all new taxi drivers in the borough must pass.

Bootle-based private hire firm Delta Taxis has put forward a proposal calling for the test to be scrapped, in light of recommendations made by the Law Commission.

Their report states that "private hire services should only be subject to national standards. Licensing authorities should no longer have the power to impose local conditions."

Within its submission Delta Taxis said it believes the "current test is nothing more than a memory test and out of date" and that "computer aided and satellite navigation has totally transformed the industry since the knowledge test was introduced 22 years ago."

The test, which is conducted by the council, involves new driver applicants having to answer 20 questions on local landmarks and licensing and driving rules, selected from a list of 60 questions, as well as six route questions selected from a list of 40 routes.

Paul McLaughlin, Delta company secretary, said: "In all honesty it is no more than a memory test, which has absolutely no bearing on a driver's ability to navigate.

"You memorise the routes in advance and regurgitate them back onto a piece of paper. It is a tick-box exercise which has zero practical benefits for drivers or customers." - more....


---
Reality Bites: Toughest Place To Be A Taxi Driver

Houston Press - (Houston, Texas)

By Pete Vonder Haar Wed., Sep. 17 2014 at 11:00 AM

No air conditioning? What could go wrong?

There are a million reality shows on the naked television. We're going to watch them all, one at a time.

In my lengthy and casualty-ridden campaign to avoid Bravo programming, I decided to check out a channel not often known for frivolous time wastage, namely, Al Jazeera America.

Wouldn't you know it, the program I finally ended up with was rerun from the BBC. Toughest Place to Be A Taxi Driver is part of that network's (surprise) "Toughest Place to be a..." series, in which seasoned British professionals are thrust into unfamiliar environments in an attempt to do their job, kind of like when Michael Phelps hosted Saturday Night Live.

Previous episodes sent coal miners to Mongolia and midwives to Liberia (presumably pre-Ebola outbreak). The Episode I Watched, on the other hand, sent one of London's vaunted cab drivers to Mumbai, India.

Mason McQueen has spent six years driving London taxis. Personality-wise, he's kind of a cross between Cockney Eric Idle and Arthur Dent, which represents the sum total of my British points of reference. He lives in Epping, northeast of London, with his partner and youngest daughter.

Mason, like all London taxi drivers, had to pass a comprehensive exam called "The Knowledge" for the privilege of driving one of London's famous "black cabs." Now safely ensconced as one of the elite of the personal transportation industry, Mason naturally agrees to travel 6,000 miles away to ply his trade in India's capitol. His fellow drivers are ... not optimistic about his prospects.

And why is that? At less than half the size of London yet home to over three times as many people (30 million to 8 million) and with car ownership doubling in recent years, Mumbai's traffic makes driving in Houston look like the stretch of I-10 between Ft. Stockton and Van Horn. To contend with these formidable stats, Mason will receive a whole week of "training."

Mason's teacher is Pradeep, a 12-year Mumbai taxi veteran, and his first car trip is illuminating, punctuated by several alarmed "Whoas" from Mason (see also: the "Nudge Nudge" sketch). The culture shock continues when Mason visits Pradeep's hiome and sees what living in a lower income bracket in one of the most crowded cities of the world gets you.

The first day's training consists of Mason riding with Pradeep as he competes with 60,000 other cabbies for fares, which in many cases don't match the amount on the meter. Pradeep makes maybe $17 a day, half of which goes to gas and loan payments. After spending a few hours in Mumbai's notorious gridlock and monstrous heat, Mason understandably wonders if he's made a huge mistake. - more....


---
Kolkata: Indefinite taxi strike from Thursday

IBN Live - (India)

Press Trust of India
Sep 17, 2014 at 09:31pm IST

Kolkata: Starting from Thursday, taxis will be off the city roads for an indefinite period in support of various demands by the owners including a fare hike and dropping of legal proceedings against 450 cabbies.

The CITU, along with five other trade unions, had called the indefinite taxi strike, eighth time since August 7 and a total transport strike on September 19. "From tomorrow there will no taxis on city roads till the government listens to our demands... We will continue it and want to see an end to it," CITU state president Shyamal Chakraborty said on Wednesday.

West Bengal Transport minister Madan Mitra said that the government would take all necessary steps to tackle tomorrow's taxi-strike and ensured that taxis would ply on the roads. Requesting taxi unions to keep away from the strike, Mitra alleged taxi drivers as well as the unions were "cheated" by the Left-backed trade unions. - more....


---
Cab complaints: Taxi Services Commission receives 10 gripes a day from passengers

Herald Sun - (Melbourne, Australia)

Matt Johnston
Herald Sun
September 17, 2014 8:32PM

TAXI passengers are complaining more often, with an average of almost 10 gripes sent to the industry watchdog each day.

More than 3400 people sent complaints to the Taxi Services Commission in 2013-14, about issues ranging from the conduct of the driver, to the trip cost, to the car's condition.

In the previous year, 2604 people raised complaints.

HAVE YOUR SAY: What do you think drivers and taxi companies need to do to improve?

But cabbies may be getting easier on the eye, with "presentation of driver" being the only area that received fewer complaints.

Overall, passenger satisfaction with the service provided increased slightly, from 69.1 per cent to 70.4 per cent. - more....


---
Uber policy challenge: winning co-operation from taxi start-up

The Mandarin - (Melbourne, Australia)

by David Donaldson
15.09.2014

Disruptive innovation is one of the greatest challenges for any regulator. Uber and the Victorian Taxi Services Commission are talking at last, but what next for other states?

Victorian Taxi Services Commissioner Graeme Samuel has welcomed as a "significant step forward" ride-sharing app Uber's decision to engage with the regulator in a "constructive" manner over legislative and regulatory questions over its services.

Samuel told The Mandarin that while the company until recently had been taking "a really strange approach" by refusing to enter into dialogue with the Taxi Services Commission, the Victorian taxi industry regulator, it appeared that Uber "is now wanting to deal with the issues in a positive manner".

He said that the commission was "taking a very pro-competitive approach" to ride-sharing apps like Uber, ingogo, and GoCatch: "We should be doing everything we can to facilitate competition. The more competition we can provide, the better off customers will be."

Ride-sharing apps have proven highly contentious around the world. Uber has been banned in several municipal areas, and Germany recently becoming the first country to outlaw the UberPop service, which connects passengers with drivers without professional licenses. The San Francisco-based company allows users to request taxi-like services from their smartphones, and is present in roughly 150 cities around the world. - more....


---
Three taxi apps compete for top place in 'e-hailing' market

The Nation - (Bangkok, Thailand)

Asina Pornwasin
The Nation September 16, 2014 1:00 am

Thanks to Easy Taxi, Grab Taxi and Uber, Bangkokians can find a ride any time

Taking a taxi in Bangkok is now easier even during rush hours or rainy days, thanks to applications designed and developed to help people hail a cab from their smartphone rather than having to go out to the street and wave their hands.

Currently, there are three such the apps available in Bangkok: Easy Taxi, GrabTaxi and Uber.

Easy Taxi's chief operating officer, Nattapak Atichartakarn, said the company's core business would consist of four services: the app itself, ET Corp, ET Pro and ET Pay. Currently only the Easy Taxi app and ET Pro are available, while ET Corp and ET Pay will be launched next quarter.

The Easy Taxi mobile app is for individual accounts, while ET Corp and ET Pro are Web-based apps for corporate accounts. ET Pay is the payment platform acting as a clearing house for taxi fare payments.

The company's revenue comes from two streams: advertising and booking fees of Bt20 per ride. Advertisements appear on the passenger's app, while the booking fee is charged to passengers or their corporate account. These fees are expected to be the major revenue stream.

ET Corp and ET Pro look similar, both designed for corporate accounts. ET Corp is for large companies that have a lot of employees who commute. Instead of giving cash directly to these employees, the company can put a chunk of money in Easy Taxi's corporate account to allow employees to hire a cab with the Easy Taxi app.

"The benefit to companies is allowing them to track their expenses effectively. They can set budgets and monitor expenses in real time. Corporates can access our back office to get a report on all rides taken by their employees," Nattapak said. - more....


---
State bid to counter transport strike

The Times of India - (Kolkata, India)

TNN | Sep 17, 2014, 12.22 AM IST

KOLKATA: The government officials on Tuesday met the representatives of state transport undertakings (STUs) to work out a strategy to counter the indefinite taxi strike from September 18 and transport workers' strike on September 19.

Transport minister Madan Mitra urged the new radio-cab operating agencies like Meru Cab, Sure Cab and Mega Cab to run their full fleet. He assured that any disruptive activity by the striking taxi workers would be firmly dealt with. Leaves of the employees of five STUs have been cancelled and they will run full fleet to counter the strike.

Eight major central trade unions, including CITU, AITUC, Bharatiya Mazdoor Sangh (BMS) and INTUC, have called the indefinite taxi strike from September 18 and transport workers' strike on September 19. Taxi operators have called strikes for several times this month. - more....


---
Uber drives into Singapore's taxi-app market

Channel News Asia - (Singapore)

By Tan Weizhen
POSTED: 16 Sep 2014 07:11

SINGAPORE: Private car-sharing and taxi-booking app Uber, which was recently banned in Germany for violating transport laws, launched its UberTaxi service here on Monday (Sep 15), adding to an increasingly crowded market.

As commuters continue to grapple with the perennial problem of hailing a taxi during peak hours, five-year-old Uber, which operates in more than 200 cities, is joining a clutch of firms here such as GrabTaxi and Easy Taxi.

While Uber faces a €250,000 (S$409,000) fine each time it picks up a passenger in Germany and other regulators in cities around the world restrict its services on the grounds of licensing and insurance issues, unfair competition and safety risks, regional general manager Mike Brown told TODAY it gets no such resistance here.

"There are certain places in the world that are extremely resistant to technology and protecting entrenched interests," said Mr Brown. "(But) we have an excellent relationship with the Land Transport Authority (LTA) and Ministry of Transport. They have been extremely supportive," he added. - more....


---
Shanghai's London-style cabs will be gold

ECNS.cn - (Beijing, China)

2014-09-17 16:06 Shanghai Daily Web Editor: Qian Ruisha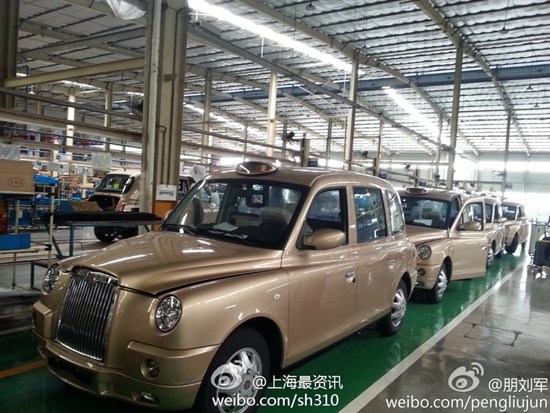 The London-style cabs set to hit Shanghai's streets next month will be gold instead of the traditional black so as to be more attractive and suit the city's image better, the company operating the cabs said.



The 200 China-made TX4 taxis are in the final stage of production, automaker Geely said as it released pictures of some of the vehicles today.

The first 50 cabs may hit Shanghai roads during the National Day holiday, according to operator Qiangsheng Taxi Company, the city's largest taxi company.

However, the starting fare has yet to be approved by the city's transport authority. Qiangsheng earlier said the flag down fare would be 19 yuan (US$3.09), compared to 14 yuan for other cabs in the downtown area.

The charge for each kilometer after the initial fee will be 2.6 yuan — 0.2 yuan more than the standard charge.

The cabs are more spacious and primarily aimed at providing a taxi service for elderly and disabled customers. They will have accessibility fittings and take bookings mainly through dispatch systems to carry passengers with special requirements.


---
Ender Wiggin

Updated sep 17 @ 21:12 GMT

+++++++++++++++++++++++++++++++++++++++++++++++++++++
Taxi News Archive